Drive the 2013 Chevy Volt Now at Bob Jass Chevrolet Near St. Charles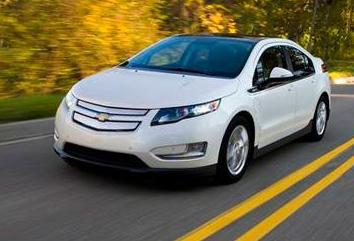 If you're looking for the forefront of hybrid automobile technology, try out the 2013 Chevy Volt at our Elburn Chevrolet dealership. Not only do we have all of the gas-driven Chevrolet vehicles, but their popular entry into the hybrid vehicle market, the Volt, is available, as well. Start cutting your gas bill down today by driving home in this high-tech compact car.
Hybrid Fuel Efficiency
The Volt has been the highest ranked compact car for overall vehicle appeal for two years running by J.D. Power and Associates, and we think it's easy to see why. Wouldn't you find the prospect of hitting the gas station once a month appealing?
That's right, if you charge your new Chevy hybrid regularly, you can average up to 900 miles between fill-ups; that's about a month's worth of regular driving for many people. If you find yourself only making short trips, you can actually forgo gasoline almost entirely, as the 2013 Volt gets an EPA-estimated 38 miles of gas-free driving.
One of the main reasons drivers look to hybrid vehicles anymore is the savings due to their incredible gas mileage, but drivers will save when buying this auto. With prices as low as $31,645, drivers can take home a Volt and start dropping the gasoline consumption immediately.
Vehicle Features
The technology isn't just confined to underneath the hood, though. Chevrolet offers brand new tech features that give you new ways to connect with your Volt. By using myChevrolet and OnStar's RemoteLink mobile applications, you can customize and control many of the features of the Volt right from your phone.
By offering affordable pricing and a great fuel economy, the Volt is a stellar family vehicle, especially once you take into account its many safety features. Included with Chevy's hybrid compact are eight standard airbags, OnStar crash response, and options like a rearview camera and forward collision alert.
Test Drive a Volt Today
There was a time when hybrid automobiles were more of a vanity option for drivers looking to help save the environment, but now, more affordable than ever, you can save the environment and your bank account at the same time. Get a feel for the Volt with a test drive at our Elburn Chevy dealership. Our sales team here at Bob Jass Chevrolet can't wait to serve you.