The 2012 Chevrolet Traverse Now in Stock at Bob Jass Chevrolet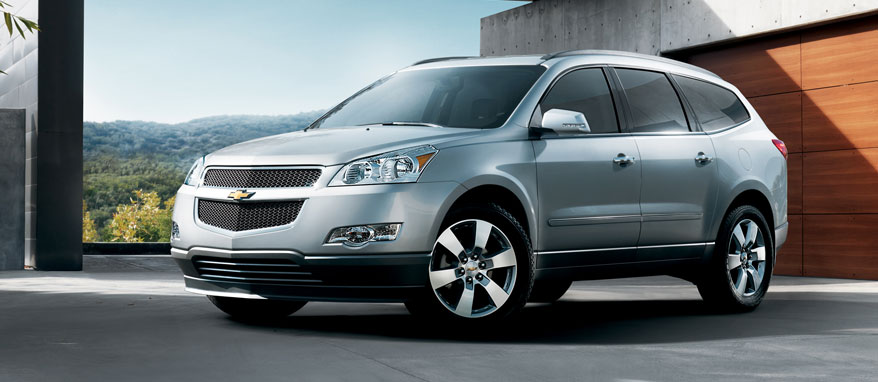 The 2012 Chevrolet Traverse is in its last year before a complete revamp scheduled for 2013. The 2012 model will not have any changes from the 2011 Chevy Traverse. It will maintain the same styling, performance, utility, and value that this eight-passenger SUV has always provided.

The Chevrolet Traverse is an incredibly stylish SUV. It combines raw lines and an aggressive grille with a nice aerodynamic package, providing sleek styling with family values. The combination of these sloping lines and handsome front end give the Traverse an edge on fuel efficiency and overall performance. Having the capability to fit eight people comfortably and get 24 MPG is unheard of in the large SUV segment.

The 2012 Traverse is a leader in safety, quality, and standard features, and most SUVs with the features and functionality of the Traverse are significantly more expensive. The standard LS model comes with cruise control, tilt steering wheel, air conditioning, Bluetooth, power windows, and power locks. If you want more options and features, the LT1, LT2, and LTZ trim levels offer various upgrades, including power seats, leather-appointed seats, leather-wrapped steering wheel, 18" or 20" wheels, rearview cameras, Bose 10-speaker stereo system, heated/cooled seats, and much more.

The 2012 Chevrolet Traverse comes with a 3.6L direct-injection V6 mated to a six-speed automatic transmission, which is connected to either a FWD or an AWD system. The 281-horsepower V6 will launch the Traverse from 0-60 MPH in 8.6 seconds. The beauty of the drivetrain is that the six-speed transmission allows more gearing to be added for acceleration and cruising. This combination of gear and fuel injection allows the Traverse to achieve a fuel economy of 17 MPG in the city and 24 MPG on the highway for the FWD version, and the AWD models obtain 16 MPG city and 23 MPG highway. Both versions of the Chevy Traverse will go 500 miles on the highway on one tank of gas.

The 2012 Chevy Traverse is a wonderful SUV that can meet the needs of a family, a business, a car-enthusiast, and anyone else looking for a quality large SUV. Bob Jass is the Batavia area's Traverse superstore and always has plenty of Traverses to meet any driver's budget and needs. Visit our website today and see what special promotions are available. Come into Bob Jass to test drive the 2012 Chevrolet Traverse today!