For 77 years the Chevrolet Suburban has lead the way in the large sports utility segment.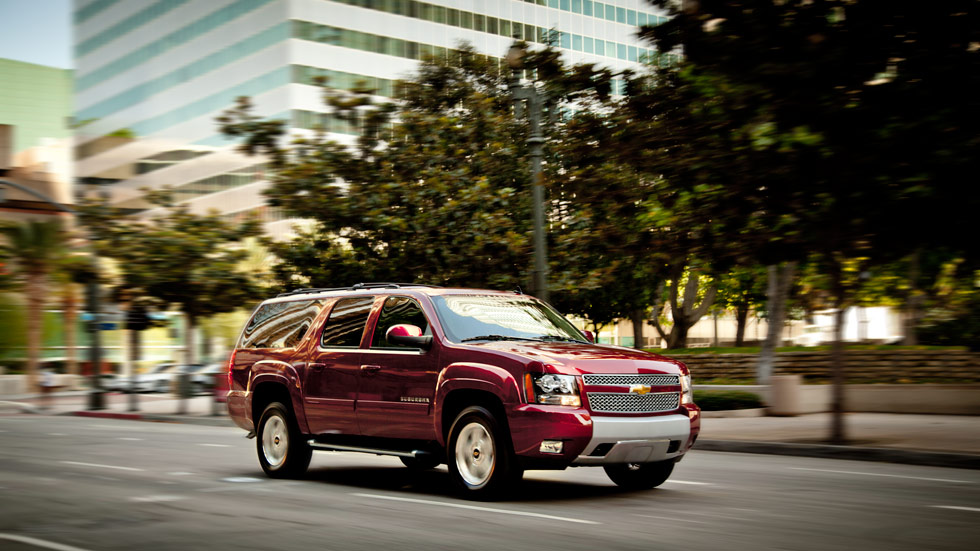 It was originally designed to carry a lot of people and a lot of cargo. While maintaining that original theme, the Suburban has evolved into a high-end vehicle for any segment in the auto world. The Suburban's continued improvement in performance, features, options, and quality design combines the properties of luxury vehicles, work trucks, off-road vehicles, and more.
Body types and trim levels
The 2012 Chevrolet Suburban has two different chassis classes: half-ton and three-quarter-ton. Within each of these classes are three trim levels: LS, LT, and LTZ. The half-ton model is equipped with a 5.3L V8 engine achieving up to 320 horsepower, and the three-quarter-ton model has a 6.0L V8 engine that gets up to 352 horsepower. The latest-generation six-speed automatic transmission gives the Suburban low-end grunt and top-end highway capability. Each trim level includes standard features, with the LS as the base package and the LT and LTZ levels adding extra features of their own. Each trim level is available in four-wheel drive to increase the hauling capability of the Suburban. Ultimately, the Suburban can be packed with features to meet every level of need.
Features and Options
The Suburban's LS trim level includes dual-zone manual climate controls, front bucket seats with six-way power adjusters, Bluetooth® wireless technology, power mirrors, automatic headlights, remote keyless entry, cruise control, CD player, On-Star, and much more. When you jump up to the LT and LTZ packages you upgrade to features like supple leather seats and upholstery, tri-zone climate control, foglights, premium sound, heated driver's seat, rear parking assist, and remote vehicle start.
The Total Package
This type of full-featured approach ensures that the 2012 Chevy Suburban meets the comfort standards of a luxury vehicle, matches a work truck's hauling capability, and has the versatility of an off-road vehicle with four wheel drive.

There are not many vehicles that boast these features, history, versatility, and value. Starting at $41,335, makes the 2012 Chevrolet Suburban the greatest value in its class.
Bob Jass Chevrolet stocks many Tahoes, Suburbans, and other SUVs and has become the leader in customer service in the Chicagoland area. Please visit us today or browse our website for the latest in Bob Jass inventory and promotions.